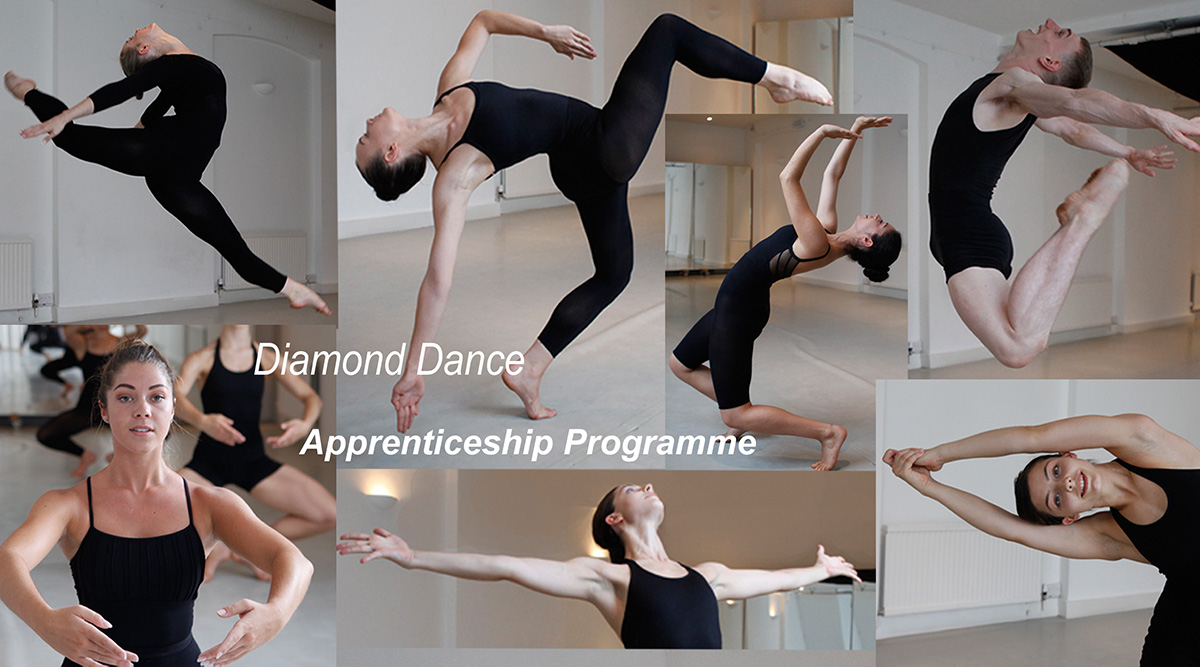 Diamond Dance Apprenticeship Programme
Diamond Dance Company offers a dynamic apprenticeship programme, designed especially for young dancers currently enrolled in full-time vocational dance training. Our week long intensive course offers paid employment to six students who will each experience what it is like to be a member of a professional dance company for the first time, giving them a strong start to their professional CV's. The week is geared on developing and honing specialized skills to assist them in gaining permanent employment in a professional dance company once they have completed their training.
Diamond Dance Apprentices are currently selected from the London Studio Centre, 1st and 2nd year course, having worked with students from Central School of Ballet and London Contemporary Dance School in previous years. The apprenticeship programme usually takes place in the summer holidays, and is independent of college curriculum. Knowledge and skills learnt on our apprenticeship programme can later be applied to 3rd year dissertations, while enriching performance during the student's final college year.
Co-directed by Emma Diamond, (ex-soloist with Merce Cunningham Dance Company) and Stephen Wicks (ex–principal of the Royal Ballet) in tandem with ballet teacher Désirée Ballantyne (ex- soloist with English National Ballet) the artists aim to deliver practical training through daily contemporary and ballet class. Together they coach the apprentices in ballet, contemporary and character repertory demonstrating how to communicate and articulate as experienced artists at an optimal level, passing on advanced skills to excel on stage. Special attention is given to boosting confidence levels, tackling stage fright, while noticing strengths and weaknesses. Students usually find they have advanced their practice in leaps and bounds during the course, with a fresh perspective gained from seeing themselves in a new light.
The week features lectures, including question and answer sessions focusing on professional conduct, tips and tricks for auditioning & enhancing career opportunities, as well as injury prevention. There is emphasis on understanding basic business skills for the self-employed dancer so students can combine arts and business successfully in equal measure within their future careers. Course leaders share aspects of what it is to be resourceful and savvy, being mindful of the long–term prospects of a dancer's career. Through lectures and one-to-one interviews with the artists, students develop their own personal almanac – a set of survival skills - to help them succeed in their future careers. Business skills include invoicing, marketing, presentation including the design of a personal logo using publicity photographs taken by a professional photographer during the week.
Diamond Dance benefits from the relationship with the apprentices, employing them to help generate experimental movement material collaboratively under the guidance of choreographer Emma Diamond. Rehearsals provide a research opportunity for the creation of Movement Installations as part of the company's moving exhibitions. Apprentices also gain hands on practical skills in stage-craft including lighting, filming, camera assistance, partnering, and teamwork.
Diamond Dance's Apprenticeship week culminates in the favourite highlight of the week, enjoyed by all; a special backstage tour of the Royal Opera House, Covent Garden lead by Paul Fielder from the ROH lighting department to help inspire and enthuse the dancers with the primary motivation: a passion and love for dance and theatre.
2018 Diamond Dance Apprentices
Alex Browne
Daisy Bishop
Malin Kvist
Zara Naeem
Leah Wallings
Jamie Weston
Photographs by: Astrid Schulz & Emma Diamond
Thanks to the Nic and Nikki Espinosa and the London Studio Centre and to Paul Fielder, the Royal Opera House, Covent Garden